1. Hilton Haikou Meilan Hotel(Conference Hotel) Address: No. 2, Qiongshan Avenue, Meilan District, Haikou, Hainan
Hilton Haikou Meilan Hotel is located on the beautiful east coast of Haikou, far away from the noise of the city and with convenient transportation. The hotel offers a wide range of catering options, complete and modern conference and accommodation facilities, 442 fine guest rooms with beautiful scenery, 3 swimming pools, including a man-made beach swimming pool, 6 restaurants and bars, providing a wide variety of delicious food and drinks, creating an unparalleled accommodation experience for travelers.
The hotel is located on the east coast of the prime location, close to the urban area, Haikou Meilan International Airport and Haikou East Ring High Speed Railway Station. As an international brand fashion hotel integrating leisure vacation and business travel, Hilton Haikou Meilan Hotel has complete facilities and considerate services, which will surely make you indulge in pleasures without stop.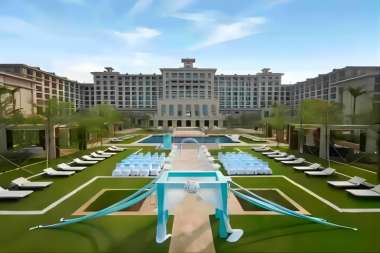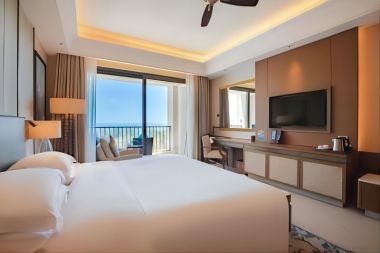 2. Pullman Hotel Haikou Xinghai Bay Address:No. 21, Xiyuan Road, Xinbu Island, Meilan District, Haikou City, Hainan Province
Pullman Hotel Haikou Xinghai Bay is located at the entrance of Nandu River in Xinbu Island. It is close to the 68000 square meters Xinghai Bay style commercial plaza and the 140 berth Xinbu Island International Yacht Club. It only takes 5 minutes from the hotel to Xinbu Island; It only takes 10 minutes to feel the core business district of the city, and 25 minutes to arrive at Meilan International Airport. It is located in a golden area and is very convenient to travel. The hotel is also equipped with a fitness center, a spa, a sauna, a children's park, a chess and card room, an outdoor swimming pool and a hot spring pool, so that you can easily spend a pleasant holiday without leaving your home. The luxurious and romantic yacht wedding, which is highly praised by all, allows you to hold hands with your lovers in the boundless blue waters and sail to the other side of happiness.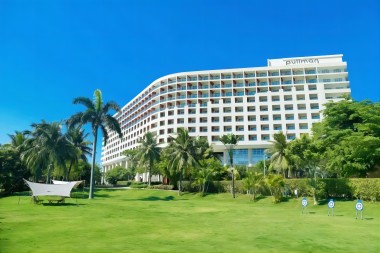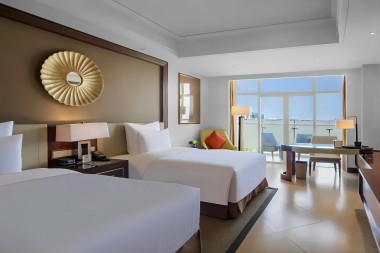 3. Haikou Orange Season International Hotel Address: No. 187, Qiongshan Avenue, Meilan District, Haikou
The hotel is located on the magnificent Qiongshan Avenue, at the junction of Haikou Guoxing CBD and Haikou Central Living Area, just a bridge away from Guoxing Business District, close to the beautiful Nandu River and beautiful East Coast Beach Park, and adjacent to Hainan Provincial Party Committee, provincial government, library and museum; Adjacent to Haikou Meilan International Duty Free City, it is a paradise for you to shop. The roundabout expressway stretches across its side with convenient transportation. The hotel integrates business, leisure, vacation, convalescence and conference, with 200 luxury rooms and suites, supporting Chinese/Western restaurants, meeting rooms, swimming pools, gyms, billiards rooms, etc. High speed broadband Internet access is provided in the room. All kinds of facilities, such as WIFI coverage, independent 100M optical fiber, 24-hour hot water, are fully equipped, the environment is elegant, the guest rooms are comfortable and clean, and all rooms have balconies. The sun is sufficient, and thoughtful and fast services are available for you at any time.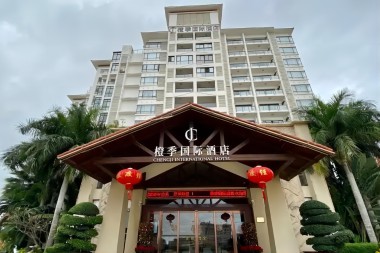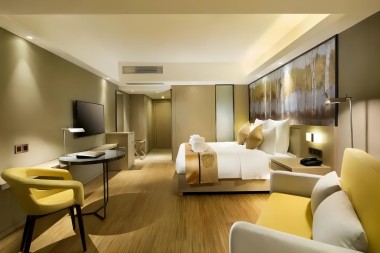 4. The New Yantai Hotel Address: No. 18, Wudong Road, Meilan District, Haikou, Hainan
The New Yantai Hotel is located on Wudong Road, Haidian Island, Hainan Province, and on the east coast of Haikou City, the provincial capital. It is adjacent to the Nandu River, overlooking the entrance of the Nandu River. The transportation is convenient. The hotel is about 5 minutes' drive from Xinbu Island Seafood World. Recommended scenic spots around the hotel: it takes about 10 minutes to ride the old street, about 10 minutes to Pearl Square, about 30 minutes to holiday beach, and about 1 o'clock to Feng Xiaogang Film Community. The hotel has rooms of different specifications. The hotel's Beiweixuan, Nanquyuan and coffee shops operate Sichuan, Hunan, Chaozhou, Guangdong, Beijing, Shandong and European and American style dishes and western dishes. The conference hall in the multi-function hall on the third floor of the hotel can accommodate nearly a thousand people and can be used for simultaneous interpretation in four languages; In addition, the hotel also has a complete set of comprehensive service facilities: business center, air ticket office, beauty salon, boutique shopping mall, billiards room, table tennis hall, dance hall, sauna fitness center, beer garden, seafood stalls, etc.